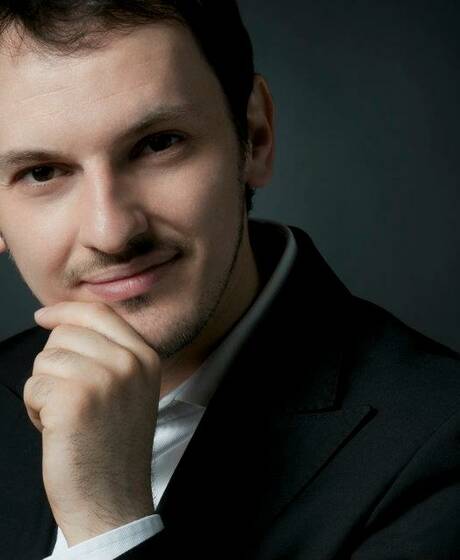 When the curtain rises for the first time, his excitement increases, because then the young talents who successfully participated in last year's Cesti Competition have to realise his concept. All-rounder Alberto Allegrezza will direct the production of the baroque opera:Jung «L'amazzone corsara». He is also designing the stage set and costumes.
You are actually a musician, singer, flutist, instrumentalist and come from a different direction. How did you come to work as a director now?
For me, it was a steady development. I am an instrumentalist; in my childhood I even played the clarinet, then I studied the recorder and graduated, and then I continued with singing. Of course, this was subsequently influenced by theatrical productions and especially by the "Commedia dell'Arte", that is, the recitation with masks and the typical characters of the Commedia dell'Arte. Therefore, it was really a development of my path. Especially when I started to be interested in ancient art, it was very important to find a situation that unites all the experiences I have gathered so far, and creating a spectacle like this sums up all these experiences. In 2003 I worked as a director for the first time. After that, there were a lot of experiences, but they were more focused on music. I directed, especially various operas (Charpentier: Actéon, Monteverdi: L'incoronazione di Poppea etc.). I then also founded my company, with which I devoted myself mainly to polyphonic music of the 16th century. This is the way it has always led me, because it practically allows me to combine these experiences. I also find this very important, especially in the language of the 16th/17th century.
It is an unknown work and unknown things have to be discovered.
So directing combines all your skills. But you are not only active as a director in a production, you also create the set, the costumes, the make-up. What fascinates you about doing everything yourself, because it's an incredible amount of work, isn't it?
Yes, that's true, it really is an enormous amount of work and not always very easy. Especially the creative work at the beginning takes an insane amount of time, because in order to place an existing work in a certain situation or time and to be able to create the characters and the costumes, you have to deal intensively with the text and the associated content.
There are phases in which I imagine the whole production, but then there are stages that I have to respect in themselves, so the conception of the production, the design for the costumes and the direction, then the realisation of the costumes and at the end the rehearsals and then the staging in general, and also the Baroque gestures, which I dedicate myself to in research work. I have to say that it's not always easy, but it's my way of dedicating myself to the opera of that time, because this artistic osmosis of all disciplines is also often encountered in the ancient comedies of the 16th century. Because the performers at that time were not only actors, as we assume today, but were singers, musicians, dancers, but also the composers themselves were singers, dancers.

I'm thinking of Emilio di Cavalieri, for example, who was a dancer, or Virginia Ramponi, who was a comedienne. This first phase of the 16th century, at the Gonzaga court in Mantua, they worked together. So that was Virginia Ramponi, Claudio Monteverdi, Gian Battista Andreini, the husband of Virginia Ramponi, Ottavio Rinuncini, the painter Domenico Fetti etc. worked together to create productions with/from different languages and directions. And this fact fascinates me a lot and inspires me a lot.
To what extent does your experience as a singer influence you when you work as a director and how do you approach the singers?
Basically, I try to make the work easier, because I know exactly what a singer can and cannot do in a scene. And I would never ask certain things of a singer, because I wouldn't feel comfortable myself. That means through my experience I try not to demand impossible things. But of course I also know what is possible.
In the production "L'amazzone corsara" you will also work with young talents. What would you like to pass on to them?
What I have heard so far in the 2021 Cesti Competition makes me feel very positive, because they are all very talented and well prepared. And I know they will all do a great job. I am really looking forward to it because I think it will be a nice experience for me but also for them.
The libretto is very entertaining on its own, full of jokes and surprises, with bizarre personalities, which are enhanced by Pallavacino's music
Could you already give us a hint in which direction the production of the opera "L'amazzone corsara" will go?
Yes, I'd love to, but I'm still in the middle of the development process. But I can say this: the costume and stage design is inspired by the iconography of the time. The opera was first performed in 1686, and I'm taking my cue from that period in terms of costumes and stage design. For example, I have the designs of Bornaccini and Torelli in mind. These designs are historical designs, but they have an ideal of beauty that is connected to the scene/stage. And I try to create a connection between this theatrical language and the fashion of the time.
On the directing side, I borrow from a treatise by Andrea Perucci, who was a director at the end of the 17th century. And this treatise is about representative art and you can find a lot of notes and references to the performance of the time, for example the use of masks or similar.
The libretto by Corradi is very entertaining on its own, it is full of jokes and surprises, with bizarre personalities, which are enhanced and emphasised by Pallavacino's music - which is very beautiful. Because of these premises, I think it will be a production with a lot of movement and will be lively.
I would also like, seeing the young age of the singers, to create a scenic collaborative "play" that is rich in entertainment and wit.
It's like food: If I've never eaten something before, I have to taste it to know if I like it or not.
Why should you definitely have seen "L'amazzone corsara"?
First of all, it is an unknown work and unknown things have to be discovered in order to have a comparison or an idea of a repertoire that you don't really know. Because to appreciate something you have to get to know it beforehand, maybe you don't appreciate it but it's a cultural question. It's like food: If I've never eaten something before, I have to taste it to know if I like it or not. That's my personal attitude and culture. And with L'amazzone corsara it's exactly the same: an unknown work becomes known. Besides, the music is beautiful and the libretto is really entertaining, plus there are a lot of young people singing and playing. So there are many good reasons to see the opera.
What are you looking forward to most about this production?
I am very happy to return to Innsbruck and to be part of a festival that is a beacon in Europe, especially in terms of baroque opera, because there are not many unknown baroque operas being performed in Europe. So that is a huge joy for me!
And I'm also looking forward to working with the young musicians!