14. June 2022
For a cup of tea with Alessandro De Marchi
Next article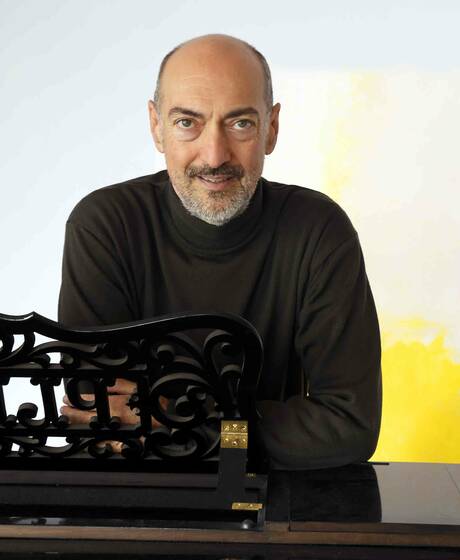 Festival director Alessandro De Marchi will take over the musical direction of the opera «Silla» and will also set the tone for the first performance of Handel's "Messiah" in Italian. He will also set the tone from the conductor's podium for the first performance of Handel's «Messiah» in Italian. Away from the sheet music and the study room, we asked him a few questions and learned some surprising things.
What do you enjoy most about your job?
I enjoy every phase of my work: researching the repertoire, preparing and studying the scores, and the magical moment of the performance, as well as communicating with the soloists and the orchestra. What I don't enjoy, however, is packing my suitcase.

Do you have a ritual before you go on stage?
I dance the twist. Sometimes I do it with some of my soloists. It's not a very fashionable dance, but it's very good for the back.
I enjoy every phase of my work.
Which three people would you like to have dinner with?
I would love to have dinner with Rossini, not only to talk about music, but also because of his expertise and love of food. I think I could also spend a cheerful evening with Wolfgang Amadeus Mozart, and I would also have many questions for him. I also hope to meet one of my contemporary idols, Jacob Collier, sooner or later.
What do you put on a pizza?
Buffalo mozzarella, aubergines, extra virgin olive oil, but no tomatoes.
What did you want to be when you were a child?
My dream was to become a cartoonist. I also had a phase where I wanted to be a tenor, but luckily I changed my mind.
What is your favourite city? And why?
I have been travelling the world for 43 years and, like many others, I feel a little at home and a little foreign everywhere. Rome, my hometown, has of course remained in my heart.
If you could play an instrument overnight, what would it be?
Definitely the violin. I know how it works, but when I pick it up, all that comes out is a meow.
What is your favourite instrument?
I would say the soprano saxophone. With its ability to create a magical atmosphere and its sound vaguely reminiscent of ancient instruments, it is the link between the music of the past and the present.
What do you like about the Cesti competition and how do you make your decisions?
I love discovering young talent. It gives me so much pleasure. In the elimination phase I try to be as rational as possible, but in the final stage I let my heart guide me.
What festival moment would you like to relive?
In all these years there have been thousands of unforgettable moments. It is impossible to choose just one.