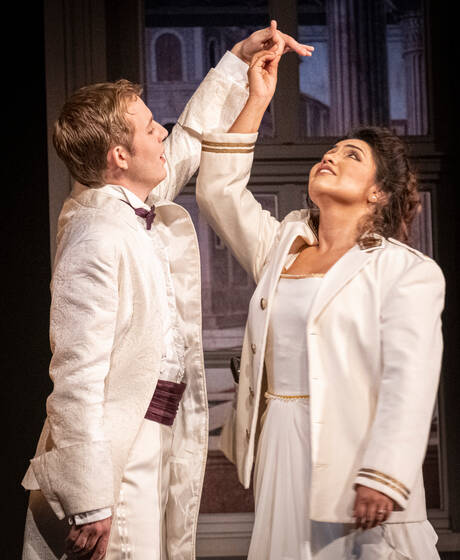 Surprise your loved one for Valentine's Day with tickets to the Innsbruck Early Music Festival 2022 and create unforgettable musical moments that will be remembered.
For romantics
The opera «Astarto» offers all kinds of confusion and love entanglements. Elisa loves the admiral Clearco and - despite the difference in status - is ready to marry him. Their union is rejected by Fenicio, Clearco's supposed father, Agenore, who loves Elisa, and Sidonia, who loves Clearco more than Nino. A top cast and the Enea Baroque Orchestra conducted by Stefano Montanari and directed by Silvia Paoli bring the baroque opera into the present day - with a happy ending, of course.
For rational concertgoers
You are not really a Valentine's Day fan, but prefer a well-planned concert evening? The concert «Blütezeit» promises a guaranteed successful musical experience. In the unique atmosphere of Innsbruck's Hofkirche, Paul Agnew and the all-vocal ensemble Les Arts Florissants will present compositions by Schütz, Gabrieli and Monteverdi that will get under your skin.
For good friends
Grab your best friend and spend an unforgettable evening at the concert «Amici cari». Old friends like Handel, Sammartini, Castrucci and others meet the ensemble Le Musiche Nove and the audience favourite Sophie Rennert.
A perfect girls' evening is provided by the concert «Concerto delle Donne». The Tyrolean harpist Margret Köll brings the concerti segreti from the time of Duke Alfonso II d'Este of Ferrara back to life.
Me, Myself and I
Valentine's Day also means doing something good for yourself. The festival weeks offer numerous musical experiences for this purpose. The concert programme «Lamento mirabile» by the Akademie für Alte Musik Berlin and soprano Roberta Mameli is particularly recommended. Figures from Greek mythology take centre stage: Hercules and Hebe, Apollo and Daphne, and Acis and Galatea. They all provided material for emotional lament arias, which were then set to music by Graun, Handel and Keiser.