Programme
Music by
Antonio Vivaldi
Francesco Provenzale
Carlo Pallavicino
André-Cardinal Destouches
Giovanni Buonaventura Viviani
Georg Caspar Schürmann
Giuseppe De Bottis
u. a.
Artists


Ensemble Jupiter
Ensemble

Thomas Dunford
Musikalische Leitung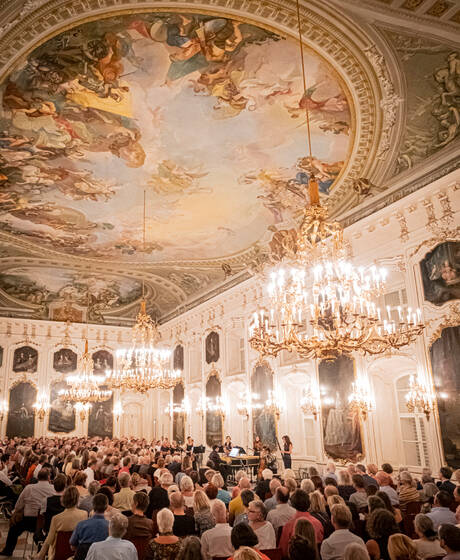 Hofburg, Riesensaal
Rennweg 1, 6020 Innsbruck
Die Hofburg Innsbruck ist zentral gelegen und gut zu Fuß und mit öffentlichen Verkehrsmitteln erreichbar. Die nächsten Haltestellen in unmittelbarer Nähe zur Hofburg sind Museumstraße und Congress. The Sightseer hält direkt vor der Hofburg. Die detaillierten Fahrpläne der Innsbrucker Verkehrsbetriebe finden Sie unter www.ivb.at.
Die Congress Garage am Rennweg 3 befindet sich direkt neben der Hofburg. Sie bietet Platz für über 700 Parkplätze und ist kostenpflichtig.
Further information
Introduction
As an additional service, we offer a free introductory talk. Christian Moritz-Bauer discusses aspects of the programme with the artists of the evening. The introduction starts at 19.00.
Discounts
50% for visitors under 30 years
10% Ö1 Club Card / Welcome Card
You are visiting several events of the Innsbruck Festival? Save up to 25% with our package offers!