Production
Massimiliano Toni
Conductor
Alessandra Premoli
Director
Schattentheater Altretracce
Massimo Arbarello
Fabio Bellitti
Sebastiano Di Bella
Mariana Fracasso
Costume designer
Accademia La Chimera
Orchestra
Cast
Rodrigo Sosa dal Pozzo
Apollo
Sara-Maria Saalmann
Dafne
Eléonore Pancrazi
Aurora, Ninfa
Isaiah Bell
Morfeo, Cirilla, Pastore
Deborah Cachet
Procris, Ninfa, Musa
Juho Punkeri
Titonio, Cefalo, Pan
Jasin Rammal-Rykała
Panto, Alfesebio, Pastore 2
Isabelle Rejall
Itaton, Venere, Filena, Musa 2
Andrea Pellegrini
Sonno, Giove, Peneo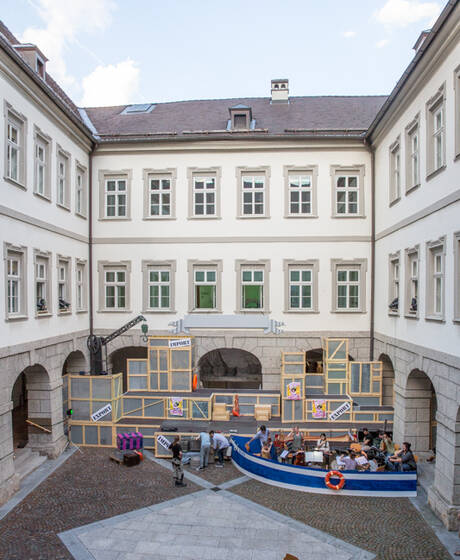 Innenhof der Theologischen Fakultät
Universitätsstraße 4, 6020 Innsbruck

Bei schlechter Witterung im Haus der Musik Innsbruck, Großer Saal
Further information
Introduction
As an additional service, we offer a free introductory talk. Rainer Lepuschitz discusses aspects of the opera with the artists of the evening. The introduction starts one hour before the concert.
Accessibility
We would be glad to assist wheelchair users with informations regarding the ticket, parking space and access to the venues. Therefore please contact our office:
+43 512 571032-13, tickets@altemusik.at
Discounts
Visitors under the age of 30 -50%
Ö1 card members -10%
​ÖBB Vorteilscard -10% (only at the box office)
You are visiting more than one event of the Innsbruck Festival?