Programme
Symphonies, Concerti, Sonatas, Balli and Canzoni by
Tarquinio Merula
Giovanni Paolo Cima
Francesco Cavalli
Francesco Turini
Bartolomé de
Selma y Salaverde
Salamone Rossi
Biagio Marini
Dario Castello
et al.
La Vaghezza
Ignacio Ramal Viejo
Violin
Anastasia Baraviera
Violoncello
Marco Crosetto
Cembalo & Organ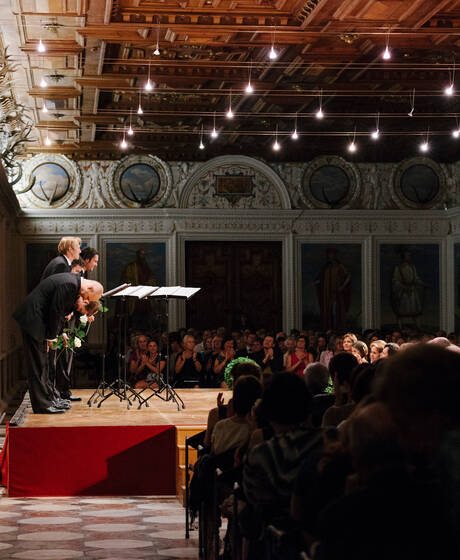 Ambras Castle, Spanish Hall
Schlossstraße 20, 6020 Innsbruck
Parking space at Ambras Castle is very limited. Please use of our free shuttle bus. Concert goers can use the bus also without concert tickets.
Read more
Further information
Introduction
As an additional service, we offer a free introductory talk. Rainer Lepuschitz discusses aspects of the programme with the artists of the evening. The introduction starts at 19.00.
Free shuttle bus service
Parking space at Ambras Castle is very limited. Please use our free shuttle bus service.
Read more
Accessibility
We would be glad to assist wheelchair users with informations regarding the ticket, parking space and access to the venues. Please order your tickets at the ticket office at Haus der Musik Innsbruck.
Discounts
Visitors under the age of 30 50%
Ö1 members 10%
​ÖBB Vorteilscard 10% (only at the box office)
You are visiting more than one event of the Innsbruck Festival? Save up to 30% with our subscription offers!
Read more