Programme
Nicola Porpora
«Il pie s'allontana». Arie aus der Festa teatrale «L'Angelica»
«Alto Giove» und «Senti il fato». Arien aus der Oper «Polifemo»
Georg Friedrich Händel
«Scherza infida». Arie aus der Oper «Ariodante» HWV 33
«Venti, turbini». Arie aus der Oper «Rinaldo» HWV 7a
«L'angue offeso». Arie aus der Oper «Giulio Cesare in Egitto» HWV 17
Antonio Caldara
«Quel buon pastor son io». Arie aus der Azione sacra «La morte d'Abel»
Luca Antonio Predieri
«Cieco ciascun mi crede». Arie aus der Azione teatrale «La pace fra la virtù e la bellezza»
Artists
Valer Sabadus
Countertenor
Leonhard Bartussek
Violoncello
Makiko Kurabayashi
Bassoon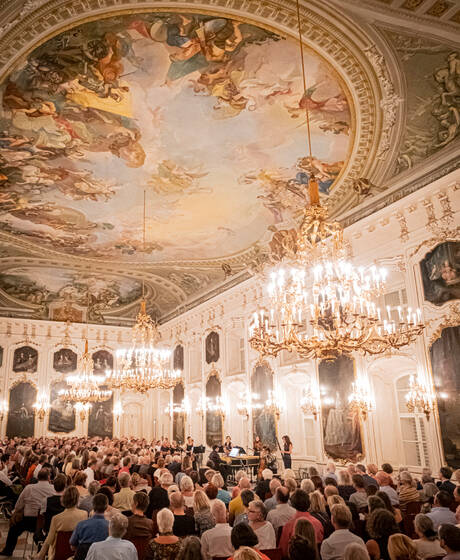 Hofburg, Riesensaal
Rennweg 1, 6020 Innsbruck
Die Hofburg Innsbruck ist zentral gelegen und gut zu Fuß und mit öffentlichen Verkehrsmitteln erreichbar. Die nächsten Haltestellen in unmittelbarer Nähe zur Hofburg sind Museumstraße und Congress. The Sightseer hält direkt vor der Hofburg. Die detaillierten Fahrpläne der Innsbrucker Verkehrsbetriebe finden Sie unter www.ivb.at.
Die Congress Garage am Rennweg 3 befindet sich direkt neben der Hofburg. Sie bietet Platz für über 700 Parkplätze und ist kostenpflichtig.
Further information
Introduction
As an additional service, we offer a free introductory talk. Rainer Lepuschitz discusses aspects of the programme with the artists of the evening. The introduction starts at 19.00.
Accessibility
We would be glad to assist wheelchair users with informations regarding the ticket, parking space and access to the venues. Please order your tickets at the ticket office at Haus der Musik Innsbruck.
Discounts
Visitors under the age of 30 50%
Ö1 members 10%
​ÖBB Vorteilscard 10% (only at the box office)
You are visiting more than one event of the Innsbruck Festival? Save up to 30% with our subscription offers!
Read more