Production

Elena Barbalich
Stage Direction
Massimo Checchetto
Stage Design
Tommaso Lagattolla
Costumes
Fabio Barettin
Lighting Design
Cast




Anastasia Boldyreva
Mezzosoprano

Lorrie Garcia
Mezzosoprano
Coro Maghini
Cristina Camoletto, Noemi Cavallo, Elisa Fagà, Chiara Lazzaro, Teresa Nesci, Emilia Russo, Federica Salvi, Karin Selva, Francesca Sicilia, Ilenia Tosatto (Soprano); Stefania Balsamo, Elena Camoletto, Manuela Cattaneo, Isabella Di Pietro, Clara Giordano, Daniela Lavagna, Federica Leombruni, Eleonora Maag, Laura Realbuto, Svetlana Skvortsova (Contralti)
Choir master: Claudio Chiavazza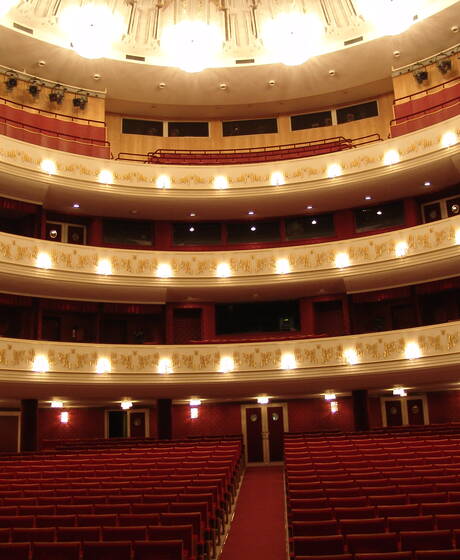 Further information
Introduction
To get in the mood for the opera, we offer a free introductory talk. In conversation with Festwochen dramaturge Christian Moritz-Bauer, participants will provide exclusive insights into the opera production. The talk begins at 18.00 in the foyer of the Tiroler Landestheater.
Accessibility
We will be happy to assist you in choosing the right place and provide you with information regarding travel, parking and the best possible access to our events.
Get in touch with us
Catering
At the operas you can use the catering webshop shop.dasbrahms.at and conveniently order your interval table with drinks and snacks in advance. Orders must be received by 12 noon on the day of the concert at the latest.
To the catering
Discounts
50% for visitors under 30 years
10€ Tickets für unter 18-Jährige
40% für Menschen mit Behinderung von mind. 70 % und deren Begleitperson
(wheelchair seats can only be purchased at the ticket office at Haus der Musik Innsbruck)
20% TT Club-Card
10% Ö1 Club Card / Welcome Card
You are visiting several events of the Innsbruck Festival? Save up to 25% with our package offers!
Read more