The 46. Innsbruck Festival of Early Music opens
Next article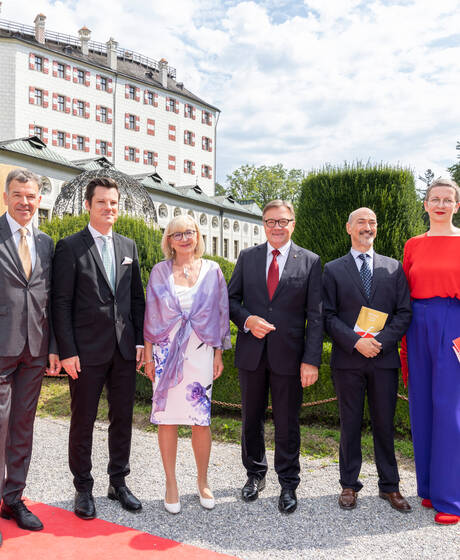 The traditional Innsbruck Festival of Early Music opened this morning at Ambras Castle. In the evening, the opera "Silla" by Carl Heinrich Graun will celebrate its premiere at the Tyrolean Landestheater for the 46th edition of the festival.
The opening of the Innsbruck Festival in the Spanish Hall of Ambras Castle was livened up with music before Dr. Beate Palfrader, Provincial Councillor for Culture, welcomed the numerous invited guests with the words: "This year, the Innsbruck Festival of Early Music have set out to provide us with encounters that leave traces. Encounters with wonderfully inspiring artists, encounters with works of early music that are new to us and encounters with many a contradictory figure in history."
Festwochen artistic director Alessandro De Marchi let the music speak for itself and, together with Chiara Cattani, presented a "Sonata a 2 Cembali" by Carl Heinrich Graun. The latter's opera "Silla" will take the stage at the Tyrolean Landestheater this evening under his musical direction with the renowned countertenors Bejun Mehta and Valer Sabadus, among others.
"I am approaching my penultimate festival weeks as artistic director full of joy and energy. This means a great deal to me. The programme is extremely varied and multi-faceted," emphasises Alessandro De Marchi.
Operations Director Mag. Eva-Maria Sens also issued an appeal on behalf of Managing Director Dr. Markus Lutz: "Culture can only unfold some of its magical power as an elixir of life if it is consumed, if it is encountered. Let yourself be touched and positively shaken by these encounters."
The young musicians of this year's Baroque Opera:Young production were also able to touch musically with scenes from "L'amazzone corsara" by Carlo Pallavicino.
Culture can only unfold some of its magical power as an elixir of life if it is consumed, if it is encountered. Let yourself be touched and positively shaken by these encounters.
Innsbruck's mayor Georg Willi took the opening of the Festival Early Music as an opportunity to recall that art and culture are essential foodstuffs and also appealed to politicians: "Just as the state spends money on education, security, infrastructure ... it needs support for a rich cultural life. This begins with the music schools, i.e. in the area of education, and ends with the Festival of Ancient Music, which is highly recognised internationally thanks to its outstanding musical quality. This requires a reliable partnership on the part of politics - also for the future. Culture is NOT the icing on the cake that you can only afford when there is an abundance of money.
Last but not least, Governor Günther Platter opened the Festival with the words "The Festival of Early Music are Tyrol's oldest and certainly most renowned festival and can look back on a successful and equally eventful history. For ever since the Festival began - with the Ambras Castle Concerts as its forerunner - concerts and operas have been presented here at the highest level, and audiences flock here in droves and keep coming back."
In August, the Innsbruck Festival offer more than 40 events. The programme includes glittering festival concerts, rousing operas, performances of sacred music, free open-air formats in public places and workshops for the whole family. Internationally acclaimed ensembles and artists such as Les Arts Florissants, the Accademia Bizantina with Ottavio Dantone, the La Cetra Baroque Orchestra conducted by Andrea Marcon, soprano Dorothee Mields, mezzo-soprano Sophie Rennert and many more will be performing in Innsbruck's most beautiful halls until 28 August. The staged opera performances of "Silla", "L'amazzone corsara" and "Astarto" are eagerly awaited. The Ambras Castle Concerts set the mood for the Innsbruck Festival Weeks as early as 12 July. The traditional crowning finale is the final concert of the now 13th Cesti Competition on 28 August.