30. August 2021
The Innsbruck Festival of Early Music 2021 draws a successful balance sheet
Next article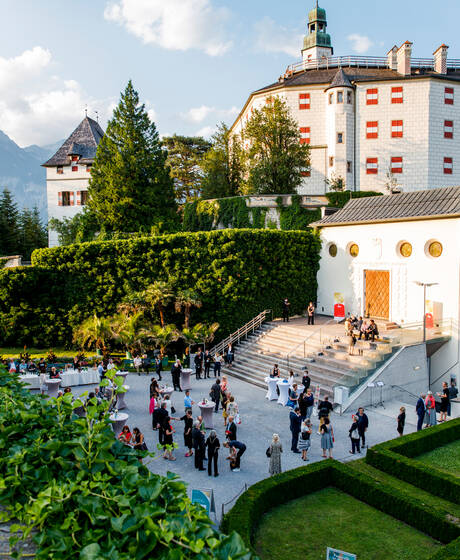 In the period from 13 July to 29 August, over 13,000 guests from all over the world visited the Festival Weeks in Tyrol's capital.
The 45th Innsbruck Early Music Festival ended on Sunday evening with the final concert of the Pietro Antonio Cesti International Vocal Competition for Baroque Opera.
The guests came from Austria, Germany, Canada, the USA, Japan, France, Spain, Great Britain and other European countries. The occupancy rate was over 86%. There were 53 events in total; 19 of them were free to experience.
"It was important to us to offer a musical perspective with the 2021 Festival - for our artists and our audience. We are very pleased that we have succeeded so successfully."
Festwochen artistic director Alessandro De Marchi, managing director Dr. Markus Lutz and operations director Eva-Maria Sens.
The Innsbruck Festival of Early Music 2021 left nothing to be desired artistically. The audience's enthusiasm at the numerous events was expressed in standing ovations, shouts of "Bravi" and long-lasting applause. Bestsellers included concerts with the Ensemble Café Zimmermann and the celebrated countertenors Valer Sabadus and Jakub Józef Orliński, who each performed in their own festive concerts. The list of reference performances is long: the Brandenburg Concertos by Johann Sebastian Bach by the ensemble Concerto Copenhagen under the direction of Lars Ulrik Mortensen in the Innsbruck Hofburg was impressive. Soprano Lea Desandre and the Ensemble Jupiter under the musical direction of Thomas Dunford also provided moments of goose bumps in the sold-out Riesensaal of the Hofburg.
With the operas "L'Idalma overo Chi la dura la vince" by Bernardo Pasquini, Johann Mattheson's "Boris Goudenow" and the "Pastorelle en musique" by Georg Philipp Telemann, the Innsbruck Festival once again succeeded in bringing three real rarities to the stage, which were praised by audiences and critics alike.
9,115 guests attended the opera and concert events. In addition, more than 4,000 interested people attended the free events of the Festival Weeks, such as the "Concerto mobile", the lunch concerts, the Schlossfest Ambras and "Pauken und Trompeten" at the Goldenes Dachl. This year, two new free formats enriched the festival weeks. For "Musica montana", audience and musicians went to the lofty heights of the Seegrube and the Arzler Alm, and the series "Aus der Zeit" invited to musical time-outs from everyday life in various church rooms.
We would like to thank all our supporters, sponsors and partners who made this diverse programme of the Innsbruck Festival possible.
The 46th Innsbruck Festival of Early Music will take place from 12 July to 28 August 2022.
Opera fans can look forward to "Silla" by Carl Heinrich Graun, Giovanni Bononcini's "Astarto" and, as Baroque opera:Jung, "L'amazzone corsara" by Carlo Pallavicino.
The entire programme will be published at the end of November 2021, when advance ticket sales will also begin.