"Paths" – The Innsbruck Festival of Early Music presents its programme for 2023
Next article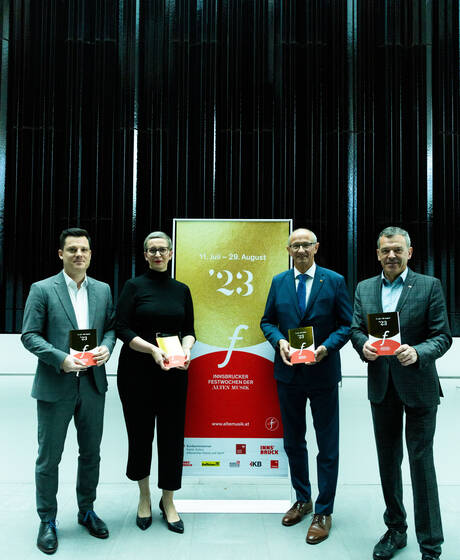 The 47th Innsbruck Festival of Early Music will take place from 11 July to 29 August 2023 with the theme "Paths". After 14 years, it will be the last festival season by artistic director Alessandro De Marchi.
The programme of the Innsbruck Festival of Early Music 2023 was presented today. The Innsbruck Festival will take place from 11 July to 29 August with 48 events at more than 14 venues in and around the Tyrolean capital.

No fewer than three staged productions by the Italian master Antonio Vivaldi will be brought to the stage. "Olimpiade", "Juditha triumphans" and, as a Barockoper:Jung "La fida ninfa".
Alessandro De Marchi himself will conduct both "Olimpiade" and "Juditha triumphans" He announces:
"After 14 years of directing the Innsbruck Festival of Early Music, a wonderful journey has come full circle for me. In 2010, in my first year as artistic director, Pergolesi's "Olimpiade" was on the programme. This year it will be Antonio Vivaldi's "Olimpiade" with which we will open the festival on 4 August. Vivaldi and his birthplace Venice run through the programme like a thread."
In "Olimpiade", the Tyrolean State Theatre ("Tiroler Landestheater") will become the venue of Olympic Games, while rivals Bejun Mehta and Raffaele Pe will compete in musical-sporting contests. Soprano Bruno de Sà, alto Margherita Maria Sala and others will also take part in the competition.
Sophie Rennert slips into the title role of the dreaded heroine in "Juditha triumphans". She will be joined on stage by soprano Arianna Vendittelli and mezzo-soprano Emilie Renard, among others. The Baroque Opera:Jung production of "La fida ninfa" offers a supposedly dreamlike shepherd's idyll. Finalists of the Cesti Competition 2022 seek their love under the musical direction of Chiara Cattani.

"The Innsbruck Festival of Early Music is one of the absolute highlights of the Tyrolean Summer of Culture and, under the motto "Paths", invites you to immerse yourself in the diversity of early music and discover exciting new facets. The programme also includes some free concerts and thus opens up easy access to high-quality cultural offerings," says Governor and Cultural Affairs Officer Anton Mattle.
In addition to the numerous free events, such as the lunch concerts, Musica montana and the Concerte mobile, renowned artists such as Rinaldo Alessandrini with Concerto Italiano, Lina Tur Bonet and Musica Alchemica as well as Christophe Rousset can be heard in glamorous concerts in the most beautiful historic venues Innsbruck has to offer. Baroque splendour and joie de vivre will be exuded by the flute virtuoso Giovanni Antonini and Il Giardino Armonico in the Spanish Hall of the Ambras Castle, and the highly acclaimed violinist Julien Chauvin and his ensemble Le Concert de la Loge will perform works by Vivaldi in the sonorous Giant Hall of the Innsbruck Hofburg ("Imperial Palace"). In addition, world-renowned singers such as the sopranos Giulia Semenzato and Francesca Aspromonte as well as mezzo-soprano Marianne Beate Kielland and many more will perform at the Innsbruck Festival.

Innsbruck's Mayor Georg Willi emphasises: "The Festival of Early Music has shaped Innsbruck for decades. They attract an international audience and are at the same time a fixed point in the calendar of Innsbruck citizens interested in culture. This year's theme is 'Paths' – a fitting topic also because artistic director Alessandro De Marchi has been the Festival's road builder for the past 14 years. He has shaped and constantly developed the festivals – not least through the Cesti competition for young singers, which he launched in 2010. His merits are manifold; the traces he leaves behind will remain visible for a long time. On behalf of the city, may I thank Alessandro De Marchi from the bottom of my heart and wish him, all participants and the audience, a wonderful time at the Festival."
Alessandro De Marchi will also bring this year to a brilliant close. After 14 successful and exciting years, he will bid farewell to the Innsbruck Festival Orchestra with a special concert: An evening in concerti for viola d'amore by Antonio Vivaldi, performed by none other than Antoine Tamestit.

Managing Director Dr. Markus Lutz and Operations Director Eva-Maria Sens are awaiting July and August with anticipation. "We are looking forward to this unique and glamorous summer festival with Alessandro De Marchi and Vivaldi. We invite you to revel in music with us through this year's Festival, on the many paths ahead, discovering the hidden and the new."

Tickets for the 47th Innsbruck Festival will be available from Wednesday, 22 March 2023 at all known advance booking offices.